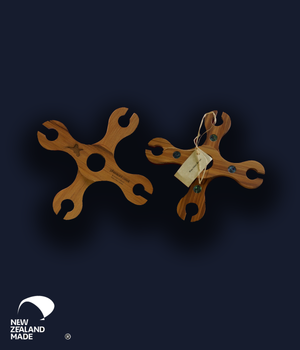 Rimu Wine Glass Holder
Rimu Wine Glass Holder (Pair)
Clever design that displays your wine glasses around your favourite bottle of wine. Dismantles quickly (thank goodness), so that you can pour the wine whilst guests admire the paua inlays and workmanship of native New Zealand timber.

Native Rimu wine glass holder

Alternative to paua inlay, we can have your company logo laser engraved, an ideal gift for a valued customer.
Elegant New Zealand Rimu wine glass holder.
Product #V521